As part of the artistic project beloved Mischpoke, eight artists from different disciplines were asked to deal with the common heritage or the interrelationship between Jewish and non-Jewish life in Germany. Beloved Mischpoke sees itself as a declaration of love, as a commitment to our Jewish roots and to Jewish culture as an indissoluble part of German identity. The result is a wide variety of works that release surprising impressions and perspectives on contemporary Jewish life in Germany. The results of this creative exploration can be seen in an exhibition at the BBK Kunstforum e.V. from October 28 to November 14, 2021.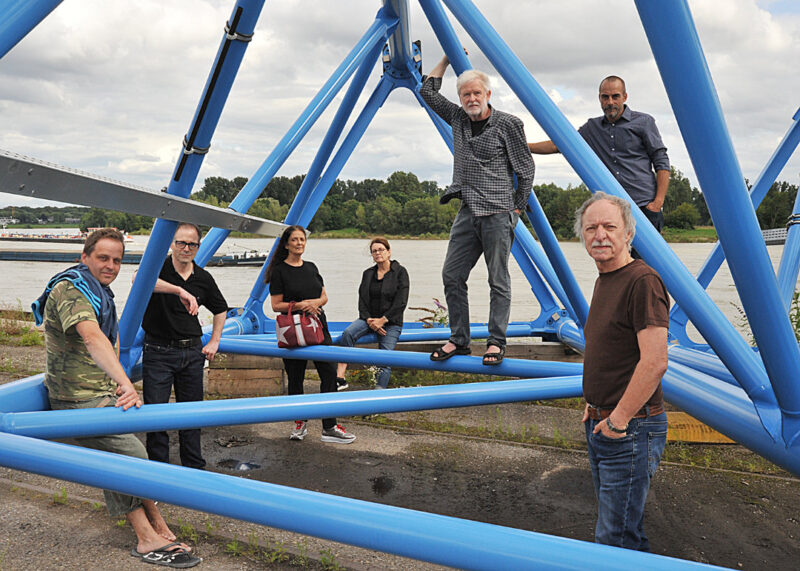 Participating artists: Adria DeDea, Avraham Eilat, Nick Esser, Suria Kassimi, Wolfgang Kuehn, Wilfred H.G. Neuse, Leonid Sokranski, Andrea Temming (Photo Wilfred H.G. Neuse)
Wolfgang Kuehn shows the large format photo collage
Leni Lafayette, 2021, digital collage, print on photo paper 175 x 119 cm
Female, young, attractive, queer and trained to be a rabbi. How does it all go together? On the one hand there is the beloved Mischpoke, the religion with a traditional framework, festivals and rites. On the other hand, there is the modern, lively, colorful and queer life in today's big city, which increasingly includes self-portrayal in social networks.
With his work "Leni Lafayette" Wolfgang Kuehn portrays a young woman who is both Jewish and feminist. The liberal Jewess lives in the middle of the more modern, lively life of the city of Berlin, describes herself as queer, and is currently training to become a rabbi. The work addresses the issue of traditional mishpoke as well as young, modern and queer life. Is queerness in ambivalence to the beloved mishpoke or will it become a natural part of the existing structures.
For the "Leni Lafayette" project, Wolfgang Kuehn didn't take the camera into his own hands this time, but only used material from social media. Over 500 photos and texts from Instagram were edited and brought together in a digital collage. These are photos and text of the beloved mishpoke, from the Torah scroll to queer pride flags to snapshots of everyday life. In the BBK Kunstforum exhibition, the digital collage is presented as a large printout on photographic paper.